Germany's leading classifieds marketplace launches new brand identity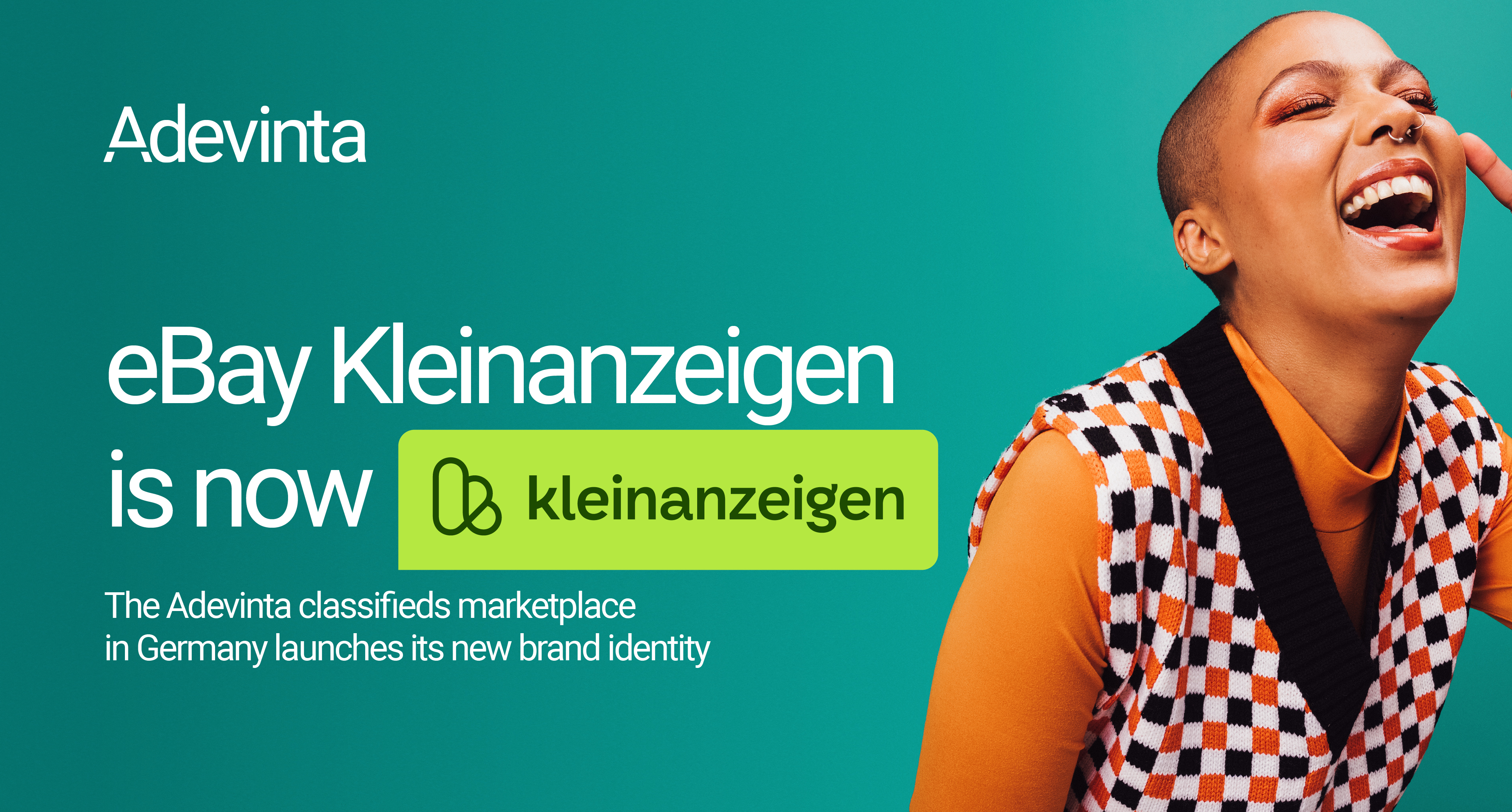 Barcelona and Berlin, 16 May 2023 – eBay Kleinanzeigen, Adevinta's leading online classifieds marketplace in Germany, has rebranded to Kleinanzeigen following its acquisition by Adevinta in 2021.
The name change, first announced in July 2022, has now become a reality: Kleinanzeigen is starting a new chapter, introducing a new logo and a new brand identity. The green "K" symbolises sustainable trade and the circular economy, which are core to Adevinta's DNA.
Paul Heimann, CEO of Kleinanzeigen and Head of the Re-Commerce Vertical at Adevinta, says: "This is a natural transition after the acquisition of eBay Kleinanzeigen by Adevinta. The new, shorter brand name is also a statement: Kleinanzeigen remains Kleinanzeigen, with one exception: we're getting better at providing a more responsible alternative to the traditional e-commerce experience. Along with our new brand identity, the Kleinanzeigen app includes new and improved functionality that caters to our customer's needs."
By leveraging technology in its marketplaces, Adevinta's digital brands support the circular economy. "With Kleinanzeigen, people are not only able to get access to a broad inventory of second-hand goods but also give products a second life and reduce the environmental impact. We are an online classifieds marketplace for everyone who wants to play a part in sustainable action. Our continued focus on driving re-commerce is completely aligned with our strong ambitions to becoming a full transaction leader in Germany", says Heimann.
The new URL is kleinanzeigen.de, although the previous domain will remain accessible for several more years.
-End-
Media contacts
Mireia Català
Corporate Communications
T: +34 620 46 80 28
mireia.catala@adevinta.com
About Adevinta
Adevinta is a leading online classifieds specialist, operating digital marketplaces in 11 countries and providing digital services to connect buyers with sellers and facilitate transactions. Our portfolio spans more than 25 digital brands, attracting approximately 2.5 billion average monthly visits. Note assets include top-ranked leboncoin in France, Germany's leading classifieds sites mobile.de and eBay Kleinanzeigen, Marktplaats in the Netherlands, Fotocasa, Habitaclia and InfoJobs in Spain, Subito in Italy and 50% of OLX Brasil. We employ around 5,700 people, including some 3,000 working in product and technology teams, committed to supporting users and customers daily. Adevinta is a sustainability leader within the Dow Jones Sustainability Index (DJSI) Europe. Find out more at Adevinta.com.
About Kleinanzeigen
Kleinanzeigen is the leading online classifieds market in Germany. In numerous categories, a total of more than 50 million ads are available on average - from children's needs to electronics to real estate. With more than 36 million users per month, Kleinanzeigen is one of the web offerings with the widest reach in this country. Most of the items traded on Kleinanzeigen are secondhand. In this way, users make an active contribution to greater sustainability. The classifieds market offers companies the opportunity to easily present their services online. Kleinanzeigen was launched in September 2009 as eBay Kleinanzeigen. Since June 2021, the company has belonged to Adevinta, a leading global provider of online classifieds. In May 2023, the company was renamed Kleinanzeigen.